The role of realism in RPGs part 1

written by Jean Henri Chandler.
An attempt to define and quantify the mechanics of hand to hand combat to better support its more realistic portrayal in role-playing games.
With the immense popularity of the Harry Potter, Lord of the Rings, Star Wars, and Matrix films, and the subsequent upsurge in interest in the Fantasy and Science Fiction MMORPGs, there has been a major resurgence in the popularity of role playing games in the last three years. With the advent of the D20 license, a tidal wave of variations on DnD flooded the gaming community.
With all this activity there were some interesting developments in the industry, but for the most part the representation of combat remained depressingly crude. In fact, from the simple portrayal of equipment through the actual dynamics of fighting, realism has basically gone out the window.
There are a lot of reasons for this. Frustration with the previous bungled attempts by designers to improve realism has fostered a general hostility toward historical grounding, and the conscious articulation of what has become the recognizable trend toward "anti-realism".
As a result, the line between cinematic or cartoon like rules systems versus those ostensibly meant to be realistic has become increasingly blurred, and sadly, there has been a general "cartoonification" of the technical aspects of both tabletop and computer based RPG's in general. What we are left with by default is more influenced by popular films and TV than history, mythology or the old fantasy literary tradition; a kind of a Hollywood version of the medieval world, a "Disney dark ages."
Fantasy armor
Historical armor
There isn't necessarily anything wrong with that, because people have different tastes and many folks have gotten a lot of enjoyment out of the way things have been done. Some people like to watch Football, some people like Professional Wrestling and some like MMA, some people like all three. For those who like the more violent sports, there always will be a fan base for Professional Wrestling, and there will probably always be an audience for MMA, but blurring the lines between the two may end up leaving both groups unsatisfied. We are at a point now where most gamers are so suspicious of realism in RPGs that they reject it on principle, and we really no longer have an MMA.
But many of the underlying assumptions of fantasy RPGs are based in history, and most if not all RPGs make some effort to have combat systems based on real world physics, so even if you don't care that much about realism it isn't completely crazy to do a little reality check on some of those fundamentals. And there are a few of us old gamers who still feel that if handled elegantly, nuanced, realistic combat and a solid historical grounding can improve internal consistency, allow easier immersion, lead to better suspension of disbelief and contribute to a more enjoyable gaming experience overall.
Though some people may assume it, there is no rule that reality is boring, or even that it's harder to base things on reality than on pure whimsy. In fact, it could be argued that it takes a true genius to invent a purely imaginary world which is more interesting than a hard look into even the most puerile aspects of the real world, (witness the unfortunate growth of 'reality' TV).
It should also be pointed out that realism doesn't automatically mean byzantine complexity or tortuous detail either. There are several war-games for example which are very realistic while simultaneously remaining quite abstracted. In these cases, the question is, are the abstractions based in real dynamics, or something totally spurious?
But I'm not really here to argue in favor of realism, this article does a better job than I ever could of explaining why it's important
http://www.gggames.net/medievalcombat.shtml
the bottom line is, I'm not going to convert anybody so if realistic means crappy to you, just quit reading now.
One of the reasons the false dichotomy between realism and "fun" exists is that the previous attempts to improve realism in RPG's were done by people who didn't really understand melee combat. In the 70's when most of the first generation of RPG systems were being designed, there weren't many people around who had any idea what melee combat really was. Today that is no longer the case. There is currently a major revival of interest in what is now called "Historical European Martial Arts" (or HEMA for short ), and there are now dozens of martial arts groups around the world which focus on classical, medieval and renaissance combat . As a result there are now considerably more people available who are personally familiar with the reality of armed combat of the pre-industrial world.
Furthermore, that close cousin of the RPG world, the war-gaming industry, has managed to reach an unprecedented level of realism in recent years which has been as popular in the market as it is intellectually admirable. During the height of the D20 bubble there were even a few war-game companies such as Avalanche Press who have attempted to bridge the gap between the high standard of historical grounding in war-games and the relatively bereft level of the RPG community. Avalanche and a few others released outstanding historical based D20 supplements (which disappeared like a stone down a well), but so far only a select few of the indy games among the infinity of RPG systems extant (notably The Riddle of Steel and Burning Wheel), really tried to bring realism into the realm of combat. It is for those who are interested in the possibilities of a constructive role for realism in RPG's that I've written this essay.
I should reiterate realistic games are not the only fun games. There are many great RPG's where realistic combat or historical grounding are neither appropriate nor necessary. Cinematic oriented games, superhero games and various other specific sub-genres have combat systems modeled after their own unique settings. Comedic and super hero games can really do away with realism altogether.
And ultimately, if you are happy running your hard fantasy campaigns in a world of chainmail bikinis or double bladed spinning boomerang axes, then you will be quite well accommodated by the current industry trends. The road toward an interest in martial arts, combat realism, or historical grounding is a rather sharp detour away out from the mainstream of today's gaming world.
There is no denying that chainmail bikinis can be sexy
But the historical version gives you that elusive air of mystery, and also protects you from sword cuts
But for those of us still interested in going off the beaten path, the task at hand is to identify the fundamental areas in which most RPG's are deficient in portraying combat. These seem to me to boil down to seven basic categories: Accurate Kit; Weapon Reach and the Defensive use of Weapons; Initiative, Momentum and Movement; Realistic Injuries; and finally, Combat Tactics and Special Training.
Accurate Kit
It seems logical that one should be able to form a relatively concrete basis for understanding Historical melee combat by studying it's component parts: the very weapons and armor which were used to fight and defend. One would imagine, since a lot of this stuff still exists, that most RPG's would at least depict known military equipment accurately. Unfortunately, this has not been the case.
The original designers of D&D made an attempt to quantify the information about military Kit which was accessible to them from medieval and classical era war games using lead miniatures. These simulations were generally based on good academic research and were at quite a high standard for their time, though the combat simulated was on a mass scale and not detailed down to the level of the individual or small group fight the way it eventually was in RPG's. What they actually came up with boiled down to the layman's state of the art for the time (the early 1970's) .
But rather than build upon these first halting efforts the new RPG industry seemed unable or unwilling to progress beyond what became the high water mark. As the decades went by and new generations of RPG's were written, the old mistakes went unchallenged and new revelations were left out. As a result the portrayal of weapons and armor began to drift more and more into the realm of absurdity .
The basics
With regard to Kit, the biggest problems on a basic level are A) the ridiculous fantasy weapons which are patently unusable, B) distorted or semi- imaginary weapons and armor being incorrectly portrayed over and over again, and C) inaccurate representation of the properties of weapons and armor, especially weight, basic methods of use, and level of effectiveness.
For example, most RPGs portray swords as ranging from 5-10 pounds for a "long sword", and 15-20 pounds for a "great sword" or a two handed sword. It is fairly common knowledge now that in reality, a typical single handed sword weighed around 2-3 lbs, and the big two- handers rarely exceeded 3 or 4 pounds. One wonders if any of these game designers have ever wandered into a hardware store and tried to heft a 12 pound sledge hammer? These distorted weights lead to all sorts of assumptions which disrupt the realism of combat, for example the speed and agility of these weapons, particularly "two handed swords ", is assumed to be excruciatingly slow.
Fantasy longsword
Historical longsword
Another problem is the use of unhistorical terms which are continually put in the lists, while a variety of interesting weapons from the real world are left out. One almost never sees such interesting sword varieties as a scraemesax, a leaf blade sword, a gladius, a katzbalger, a schiavona, a langen messer, an estoc, a tulwar, or a true zwiehander, just to mention a few. Or for those gamers tired of swords, rather than a 'double flail', I'd like to see such exotic weapons as an German ahlespeiss, a Flemish guden-tag, a Viking hurlbat, or a Dacian falx once in a while!
schiavona (historical)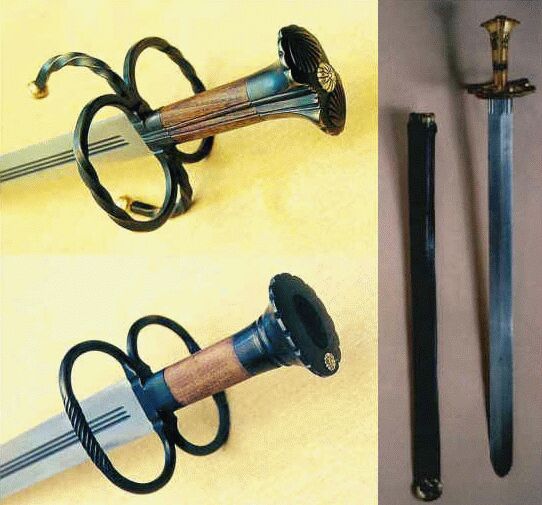 katzblager (historical)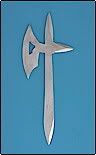 hurlbat (historical)
Shields are generally portrayed as inch thick iron manhole covers, or as heavy oaken constructs of two by six beams like a picnic table. If consulted, historians would be glad to point out that most shields which existed in reality were usually made of combinations of such light materials as hide, bone, bark, antler, wicker, and wood, and the heaviest shields of leather and thin layers of ply-wood, sometimes reinforced with metal trim and boss . For example, two of the most famous shields in history, the round shield of the Vikings and the rectangular "scutum" of the Romans, were both made of laminated ¼" panels of Linden — wood, a very light wood comparable to balsa, with reinforcing struts of harder wood, a metal boss for the hand, and sometimes a metal rim. That's right, they were a quarter of an inch thick. Try screwing a door handle into a two — by six inch board around with you for a while one day and you will understand why.
In accordance with Hollywood depictions, armor is assumed to be cripplingly bulky and to weigh hundreds of pounds. It's use within RPGs is based on all kinds of weird assumptions such as the idea that a suit of armor made of stiff, cured leather would be less bulky and cumbersome than say, a mail shirt or a fitted suit of gothic plate armor.
Unhistorical terms like "chain mail" are repeated, and doubtful to dubious armor types, such as ring "mail", so called "studded leather" armor , splint armor (i.e. a whole 'suit' of vertical metal splints) and banded "mail" are included, while such important types as the lighter Asian type mail, brigantine, lamellar, or the lorica segmentata of the ancient Romans, (to name a few) are almost always left out. Again this is all left over from the earliest equipment lists worked out in the 1970s.
Nuanced depiction of equipment
On a more advanced level, it is worth noting that one of the reasons equipment lists often so often truncated and comparatively boring is that the combat systems in the RPGs are generally too simple to portray the differences between various types of gear realistically.
One of the most glaring examples of this in many RPGs, is where a dagger is assumed to do a laughably small amount of damage, especially compared to a sword, an arrow, a mace, etc. I find this suspicious to say the least. While daggers cannot cleave or chop, and a sword might be able to deliver a more damaging wound in a quick cut or jab, a determined stab wound from a 12" blade is probably just about as lethal as the same impaling wound from a 24" or 48" blade. If anything, knives are usually sharper than swords, since they can be made of harder steel because they don't have to be as flexible. Once a blade has penetrated more than a couple of inches through your rib cage or your skull, you are basically dead. Similarly, a throat slashed by a four inch strait razor is just as badly cut as one slashed by a three foot tulwar.
1-4 damage?

Really?
But damage is usually the only effective way most RPG's can differentiate the quality or value of a given weapon. Why bother getting a sword if, within the parameters and rules of the game, a smaller and cheaper dagger is almost as effective at killing the enemy? There is in fact nothing in the rules in most RPG's which give any real reach advantage for a sword, nor is the ability to defend yourself from or fend off attack using your sword included in the rules. But people think knights carried swords and not daggers so therefore, a sword must still be superior in some way, therefore in almost every RPG a sword does two or three or four times the amount of damage to a given target than a dagger does. (It's worth remembering however, historically not every knight carried a sword but every single one carried a knife or a dagger)
This is because the only real way weapons can be differentiated in most RPG systems is by damage type, and yet unfortunately even here there is little actual discrimination between forms. Most systems make at least some distinction between bludgeoning and stabbing or cutting weapons, but this rarely extends into human to human combat. A realistic combat system should match up specific types of armor defense against specific types of attacks.
Many historians and archeologists recognize three types of attacks by humans with weapons: bludgeon, cutting, and piercing. It is probably useful to further differentiate the cut attack into chop (cut) and slash (or draw-cut) subtypes. Some weapons, such as an arming sword can effectively attack in four ways to a greater or lesser degree . Others such as an estoc, an axe, a mace, or a pike are more specialized. Certain weapons such as a tulwar excel at one form (slashing) while still capable of others (chopping or impalement)
Similarly, each armor type may be more or less effective against different types of attack, and this should be noted and incorporated into any combat simulation where possible. Cloth armor and hide or leather based armor types would probably be vulnerable to slashing attacks. Properly made riveted mail for example, is very effective against chopping, cutting, and slashing attacks . Mail is somewhat less effective in protecting against piercing, as from arrows or spear thrusts, and it is relatively useless against bludgeoning or crushing attacks, such as from a mace. Of course, mail was generally worn over a quilted textile coat which is now called a gambeson. Mail over a gambeson was fairly good protection even against a club or a mace.
Brigantine, lamellar, scale armor, and reinforced mail or leather armor all have their various strengths and weaknesses. And one need only examine the way weapons changed in the later 14th Century and beyond to determine which kinds of attacks are most effective against plate armor.
The combination of weapons capable of a variety of specialist attack types with various authentic types of armor, a full and nuanced inventory of Kit could if handled right become relevant and interesting in an RPG, perhaps even making the game more interesting and more tactically flexible. Furthermore, a more sophisticated understanding of period arms and armor becomes possible as a side-effect, which really does further enrich the gaming experience.
Speed, Reach and the Defensive use of weapons
Looking at a list of Classical, Medieval or Renaissance military equipment, and considering their various shapes and sizes, it is immediately apparent that there are more reasons for all the different varieties of weapons than mere damage type. Two of the most important key considerations are reach, speed, and potential defensive use. As an experienced stick fighter, I can attest to the importance of both reach and speed, offensively and defensively.
Reach
I know from long personal experience that a person armed with no shield and a small weapon (say, under 25") is at an almost impossible initial disadvantage from an experienced opponent wielding a long (say, 36" or more) weapon. I would personally be willing to go up against anyone in this position, and I would feel very confident of getting the first hit nine times out of ten before they closed the range, even if they were wise enough to attempt to rush immediately, (not to mention swift and experienced enough to 'shoot' effectively). Almost anyone with any experience of armed combat knows that in the initial moment of combat especially, reach is absolutely critical, and yet RPGs make almost no allowance for this.
Similarly, the size or reach of a specific weapon greatly affects its defensive value. First and foremost, the threat of counterattack is greatly increased as an opponents weapon approaches or surpasses the length of your own. Second it is generally easier to parry with a longer weapon (up to a point).
Again, if I am carrying a 48" bastard sword and contemplating striking someone who is defending themselves with a 28" short sword from beyond melee distance, I would feel extremely confident of striking them first. My primary concern would be to cause sufficient damage in my initial attack that they could not survive sufficiently intact to rush in and close the range.
The spear does have a slight reach advantage over the saber
Defense
Some specific weapons are more effective at active defense than others. You can parry with a sword, but a quarterstaff wielded by an experienced fighter is considerably more versatile. Some weapons are even specialized for defense in their basic design. For example, daggers were often used for parrying through the middle ages. During the Renaissance, specialized parrying daggers called "main gauche" (i.e. 'left hand') were developed with exaggerated guards and hand protection. These weapons were and are superior at parrying than ordinary daggers, both because they protect the hand better and because they have larger guards to catch enemy weapons with.
Weight and overall shape are important too. A mace can be a particularly effective parrying weapon because its weight and mass can knock aside lighter weapons easily. A rapier on the other hand finds its defensive value largely in its considerable counterattacking ability, it may be too light to effectively parry a very heavy weapon such as a mace or an axe. Some axes may be too clumsy to parry with very effectively, and those with wooden hafts would be subject to being cut through by a large sword or another axe, say. Also, due to the way one attacks with an axe (chopping), reach is not as useful as with a weapon which can also slash or stab.
Speed
Finally, speed is a very important factor as well. Weapons intended as such tended to be light and well balanced, whereas a farmers tool like a lumberjacks axe lacks speed but may still have the power to cut through heavy armor. On the opposite extreme a specialized weapon like a rapier sacrifices overall strength and cutting power favor of agility and reach in the thrust. Weapon speed also plays a different role in close combat than it does in and beyond melee range. In close, the shorter weapons such as the dagger or the shorter swords can be deployed faster to cut or stab again and again, while the longer weapon is normally less effective in such close quarters and cannot be deployed as swiftly without special martial arts training.
All of these factors, speed, reach, and both passive and active defensive ability could theoretically be factored into any simulation of melee combat. In general, reach, tempered by weapon speed and agility, should play a crucial role, particularly in the beginning of a fight when the opponents first come into range of each other, (where the longer weapon will have a great advantage) and again when and if a fight reaches grapple or clench range (where the shorter weapon will have a greater advantage). The defensive capabilities of weapons, both passive and active, should also always be incorporated into any melee combat system. It is at least as easy to parry a blow as it is to dodge or duck a blow, and it is still easier (and safer) to fend an opponent off with the threat of a counter-attack.